When planning an outdoor event or setting off on a camping trip, a common question that arises is: "How long does ice last in a cooler?" The duration can vary significantly depending on numerous factors. This includes the type of cooler used — for example, ice tends to last longer in a Yeti cooler compared to standard models.
Whether you're using a cooler tote, a cooler box, or a cooler bag, understanding these factors can help ensure that your food and beverages remain chilled for your entire outing. In this article, we'll explore these key factors and provide helpful insights into making your ice last longer in a cooler, whether it's stored outside or within your vehicle.
How Long Does Ice Last in a Cooler Quick Guide
There are a few variables that directly impact ice retention time, so when trying to find out how long does ice last in a cooler, you need the keep in mind the following factors. For more details continue below.
Cooler type
Type of ice being used
Icebox construction
Ideal storage place
Temperature and volume of contents
Airflow
How Long Does Ice Last in a Cooler: Factors to Consider
Let's review in detail each factor about how long does ice last in a cooler.
Cooler Type
Styrofoam Cooler
The duration for which your ice remains frozen in a Styrofoam Cooler depends on the type of ice used. Dry ice, when stored in these coolers, can last for about 18-24 hours, while water ice typically retains its frozen state for 12-24 hours.
Smaller Styrofoam coolers have limited ice storage capacity and offer lower insulation capabilities. Conversely, larger models can accommodate more ice and prolong its longevity, especially if kept in shaded areas. Regardless, Styrofoam coolers are an economical option when you require ice preservation for up to 1-1 ½ days at most.
Soft Cooler
These soft coolers are designed to excel in performance, keeping ice intact for approximately three days. The key lies in their thick, closed-cell foam that measures over one inch in thickness.
While sturdy soft-sided coolers may come with a higher price tag, they are built to withstand even the most extreme conditions. Additionally, when packing dry ice, make sure to cover up any empty pockets to maximize its longevity and keep it frozen for an extended period of time.
Hard Cooler
A typical hard cooler can generally keep your ice intact for up to two days, making it a suitable choice for a weekend getaway. The plastic exterior enhances its durability. If you're looking for ice that lasts for at least two and a half days, consider opting for their steel belted cooler (54 QT).
Some high-end hard coolers can potentially maintain ice for an impressive duration of 4 to 4 ½ days.
Type of ice being used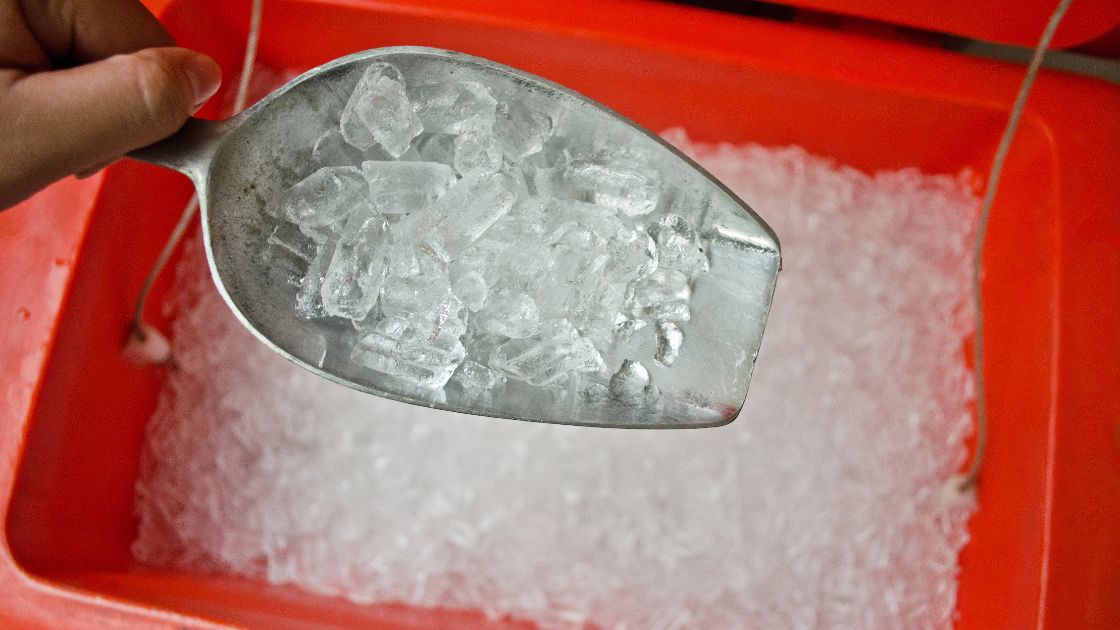 Having a basic understanding of science can be incredibly useful in everyday situations. For example, did you know that not all types of ice melt at the same rate? When it comes to keeping things cold, using frozen plastic bottles or larger ice chunks is more effective than packaged ice, which tends to melt faster. The reason is simple: less exposed surface area means less heat transfer.
Icebox construction
The construction of an ice chest plays a crucial role in its ability to retain ice. It's important to note that the insulation quality is not always the sole determining factor for a cooler's performance.
For example, the construction technique used in a hard cooler differs significantly from a simple Styrofoam icebox. While the former can effectively keep your ice from melting for days, the latter can only maintain ice for a maximum of 24 hours. The choice of construction method is therefore paramount in ensuring optimal ice retention.
Ideal storage place
Keep in mind that no cooler provides flawless insulation, and it's futile to defy Mother Nature. Even with a high-end cooler, the ice will quickly melt if stored near fire or exposed to direct sunlight. However, you can mitigate this issue by placing the icebox in a cooler location, such as under the shade of a tree.
Temperature and volume of contents
To maximize ice life, it's recommended to chill or even freeze the contents before placing them in the cooler.
Similarly to ice volume, avoid using an oversized cooler with excessive empty air space. Fill the cooler space with food and drinks or ice packs to optimize efficiency.
Enhance ice preservation by adding pre-chilled items like food or drinks. For even better results, consider cooling your ice chest a few hours before packing for your trip. This simple tip will help you keep ice from melting faster than usual.
Airflow
To maintain the optimal cooling effectiveness of the icebox, avoid frequent lid openings. Doing so would release the trapped cold air and allow warm air to enter the chest. The insulation works best when the chest is tightly sealed when not in use. By preserving the seal, you ensure maximum efficiency and effectiveness in preserving the cold temperature.
Common Questions About How Long Does Ice Last in a Cooler
Now it's time to address some of the most frequently asked questions related how long does ice last in a cooler.
What can you do to make ice last longer in your cooler?
By implementing these strategies, you can ensure optimal ice longevity in your cooler.
Opt for dry ice as it tends to last longer than regular ice. It's colder and turns into gas as it warms up. Fill the air pockets in the cooler with newspaper and place water ice below the dry ice.
Reduce the influx of hot air into the cooler and fill any empty spaces to improve insulation.
Increase insulation by burying the icebox in the ground or wrapping it in a blanket to prevent cold air from escaping.
Pre-cool everything, including the icebox, before heading to your destination.
Consider using block ice as it melts slower than cube ice.
Keep the draining plug shut even if the ice has melted to retain coolness. Waterproof bags can also prevent contents from becoming soggy.
Choose a cooler that suits your activity, taking all essential factors into account.
Place a wet towel over your icebox for an added cooling effect.
Will ice salting help ice last longer in your cooler?
Ice salting is a time-honored preservation method that dates back centuries. There are a few different ways to utilize salt to enhance the cooling efficiency of your cooler:
Utilizing a Salt and Water Solution: Start by filling your cooler with regular ice and then add a few bottles of frozen salt water. These saltwater bottles will melt at a faster rate than the regular ice, effectively maintaining a cooler temperature for a longer duration. This occurs because salt reduces the freezing point of water as the ice melts.
Adding Salt to Ice: Another approach is to add salt directly to the ice. This causes the ice to melt at a faster rate, which in turn makes the water reach its coldest state. Instead of freezing salt water bottles, you can simply add salt to the water and create ice cubes.
Will aluminum foil help ice last longer in your cooler?
One effective method to prolong the longevity of your ice cooler is by placing a layer of aluminum foil on the interior. This acts as an insulator, deflecting light and heat away from the ice. Alternatively, you can utilize bubble wrap as a substitute for foil, effectively shielding the ice from warm air.
Video Should You Drain The Water From Your Cooler? Draining VS Retaining Ice Melt In A Cooler
Watch the following video to learn more about how long does ice last in a cooler and discover more tips and tricks on how to maximize ice preservation in your cooler.
Final Thoughts
In conclusion, how long does ice last in a cooler is influenced by several pivotal factors, including the type of ice being used, the construction of the cooler, the location where the cooler is stored, the temperature and volume of the contents, and the airflow within the cooler. By understanding How Long Does Ice Last in a Cooler and implementing these aspects, you can significantly extend the life of your ice.
From opting for dry ice or block ice, insulating the cooler with aluminum foil, or burying it in the ground, to reducing the influx of hot air by minimizing lid openings, there are numerous strategies to ensure your cooler remains chilled for an extended period. With this knowledge about How Long Does Ice Last in a Cooler, you're now equipped to maximize your cooler's efficiency on your next adventure, ensuring your food and drinks stay refreshingly cold for longer.